Please use this button to make an online booking.
If you prefer to speak to someone, please call +44 (0)1962 771748 for further information or to book.
The Krishnamurti Centre is for adults only. Sorry, no children or pets.
Strictly no smoking.
Accepted Payment Methods: Credit or debit cards or cheque.
Check-in & Check-out: The earliest check-in is 11am, but please be aware that on busy days your room might be ready later. You are still most welcome to arrive in the morning and use the communal facilities. We kindly ask that you check out by 10am.
General Booking Conditions
The Krishnamurti Centre has 20 single, en-suite rooms, which are simply but comfortably furnished and all with views of the beautiful grounds. Large rooms have a bath with a shower, standard rooms a shower.
Because of the limited number of rooms, we advise you to book early.
The minimum stay at the Centre is two nights and we suggest a maximum stay of two weeks. We also welcome day guests who can, by prior arrangement, stay for a meal and use all of the study facilities of the Centre, except for the quiet room. We request that all guests give advance notice of their visit.
Study groups who wish to inquire together into Krishnamurti's teachings, can contact us to discuss a suitable programme.
No smoking is permitted in or near the buildings, or in the grounds. No use of alcohol or other drugs.
There is no WiFi access for guests. There is a computer with internet in the back office of reception which guests can use for brief internet access if needed.
One guestroom is fully equipped for disabled visitors and easy accessibility to all communal spaces of the Centre is guaranteed.
Other Policies
The Krishnamurti Centre reserves the right of admission and of asking someone to leave the premises in case of disruptive or inappropriate behaviour. It is essential to maintain the atmosphere of quietness at the Centre, and for its facilities to be used according to the intentions of the founder; we also wish to ensure that the space is fitting for guests who are on retreat.
Please click here to read the complete Policies & Agreements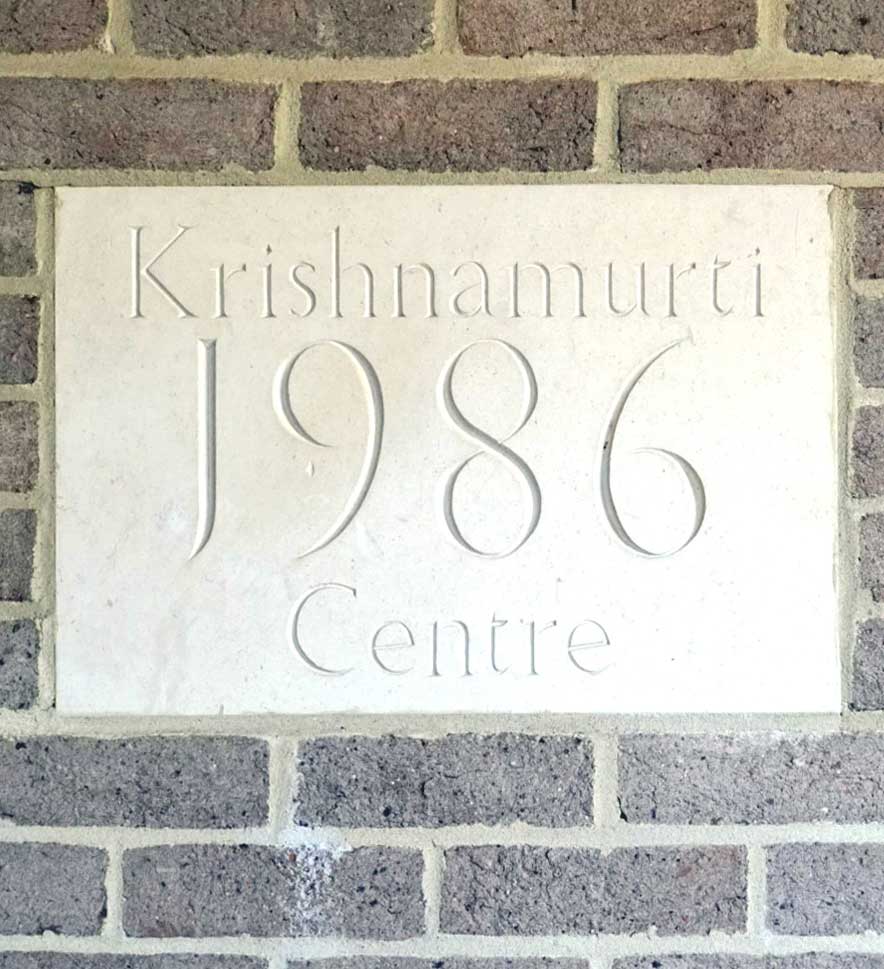 All prices at The Krishnamurti Centre are per night and per person and include full board and lodging. Tea, coffee and fruit throughout the day, and the use of the facilities, are also included.
A non-refundable deposit of £50 is required to secure a booking.
Reservations can be amended up to one week before the arrival date. In this case, the booking can be moved to a later date.
Following a cancellation, your deposit will be valid for one year after the date of your expected visit.
In the event of non-arrival, or cancellation less than one week before the arrival date, the deposit is non-refundable. It will be used as a general donation for the Centre.
Please note that when booking online, the rates displayed are the normal rates. When booking online for an event, the rate will then be changed manually by Centre staff.
· Per night, standard room/large room: £95/£110
· Week stay – special rate – (7-night stay including 1 night free), standard room/large room: £570/£660
· Introduction Day: £25
· Theme Weekend (Friday to Sunday), standard room/large room: £250/£280 
· Study Retreats (Friday to Wednesday), standard room/large room: £525/£600
· Day visit (use of the study facilities with lunch): £15
· Day visit (use of the study facilities with lunch and supper): £25
· Day visit (use of the study facilities without meals): Free (donations are welcome)
· Krishnamurti Study Groups, Committees and Information Centres: Please call +44 (0)1962 771748 
Prices are already low, and the Centre relies on donations for its operation. However, if you are a student or under 25 years old and are not able to afford the rates, please get in touch with us.
In addition, in order to make a stay at the Centre more affordable, we have reduced the price for two of the rooms to £75. These rooms, 11 and 12, are the same size and level of comfort as our other standard rooms but have slightly less light due to their proximity to the main building.
Please note: The Centre will close on 3 January 2022 and re-open 11 February 2022.

Brockwood Park
Bramdean, Alresford
Hampshire SO24 0LQ
United Kingdom
Telephone: +44 (0)1962 771748
Company Registration No. 1055588
Registered Charity No. 312865
© 2022 Krishnamurti Foundation Trust Ltd