It is essential sometimes to retreat, to stop everything you have been doing, to stop your beliefs and experiences completely, look at them anew and not keep on repeating them. You would then let fresh air into your mind.
KRISHNAMURTI
Programme
The Krishnamurti Centre welcomes guests for individual retreats, a variety of group events and for day visits.
Most visitors staying at The Krishnamurti Centre have their own retreats. Individuals can decide how best to organise their time at the Centre, using facilities such as the library and quiet room, watching their chosen videos on a device or one of the screens set up for this purpose, listening to audio recordings, and walking in the Grove and local countryside. Staying at the Centre provides many opportunities to discuss with other guests and residential staff, especially during mealtimes. Quiet is always available, including a silent table for guests who prefer to eat alone.
These are events of inquiry and exploration dedicated to those aged 19 to 35 interested in coming together to look at fundamental questions of life. It is an invitation for participants to discover a new way of living. With silence, nature and dialogue at the core of the retreats, guests sustain an inquiry into issues of everyday life that concern and connect us all. Topics covered touch on fundamental aspects of Krishnamurti's teachings, themes that resonate deeply across generations, such as love, loneliness, freedom, society and meditation. Volunteer positions are available to help run these and other events.
Dialogue inquiry, complemented by a hand-picked selection of Krishnamurti audio, video and texts, form the basis of our group events. Full attention can be given to aspects of the teachings and their implications in one's own life. Participants watching and discussing together often continue to have informal dialogues and explorations outside of dialogue meetings. Plenty of free time is allocated for this, along with walking in the beautiful surroundings and using the Centre's facilities.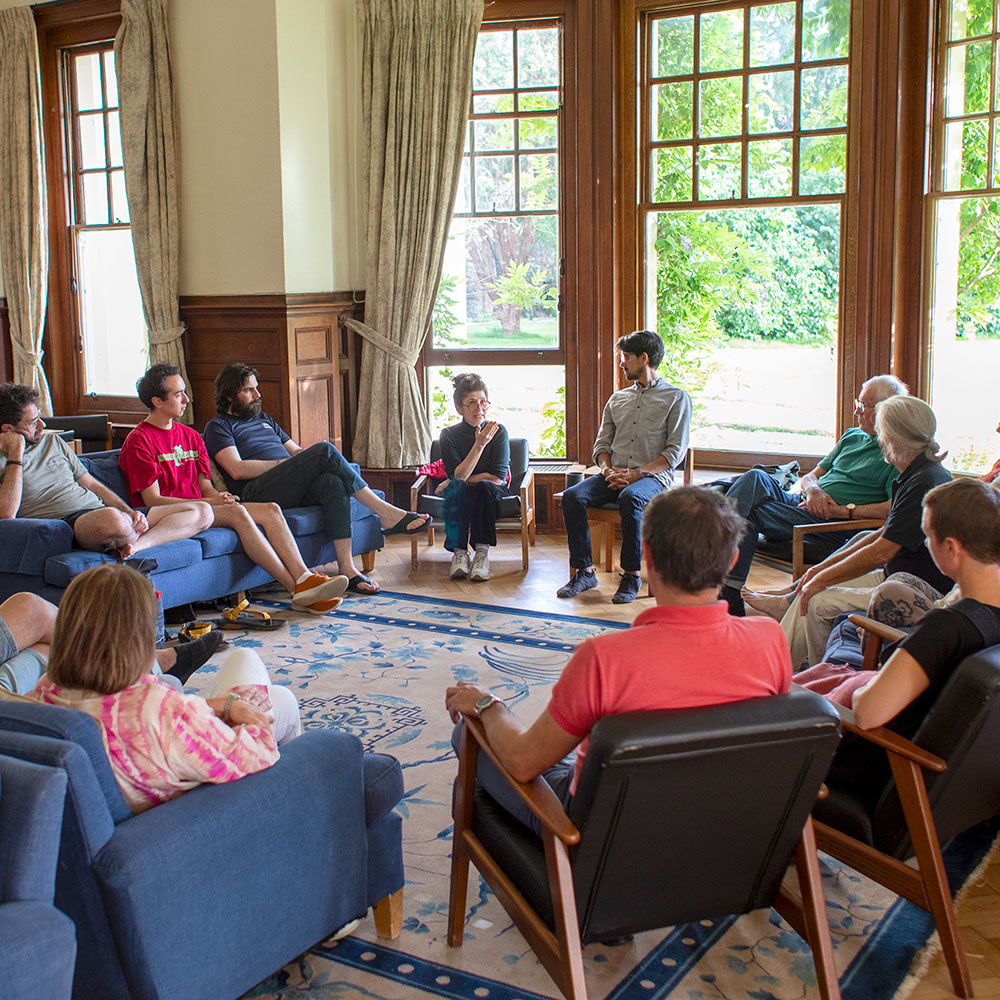 Other Retreats & Events
A larger Krishnamurti Gathering at Brockwood. With around 100 attendees from across the world, this is an opportunity to connect and explore universal themes together in retreat.
Our Education Retreat is for parents, educators and others concerned or interested in education. Its focus is an inquiry into Krishnamurti's unique approach to teaching, and explores the education of the educator.
Silent Retreats feature carefully selected Krishnamurti audio recordings but no dialogue meetings. The whole Centre will be in silence during these weekends, giving the opportunity to inquire deeply into one's life and the teachings.
Please see here for information on Friends of Brockwood Park events.
Click on an image to enlarge
Brockwood Park
Bramdean, Alresford
Hampshire SO24 0LQ
United Kingdom
Telephone: +44 (0)1962 771748
Company Registration No. 1055588
Registered Charity No. 312865
© Krishnamurti Foundation Trust Ltd